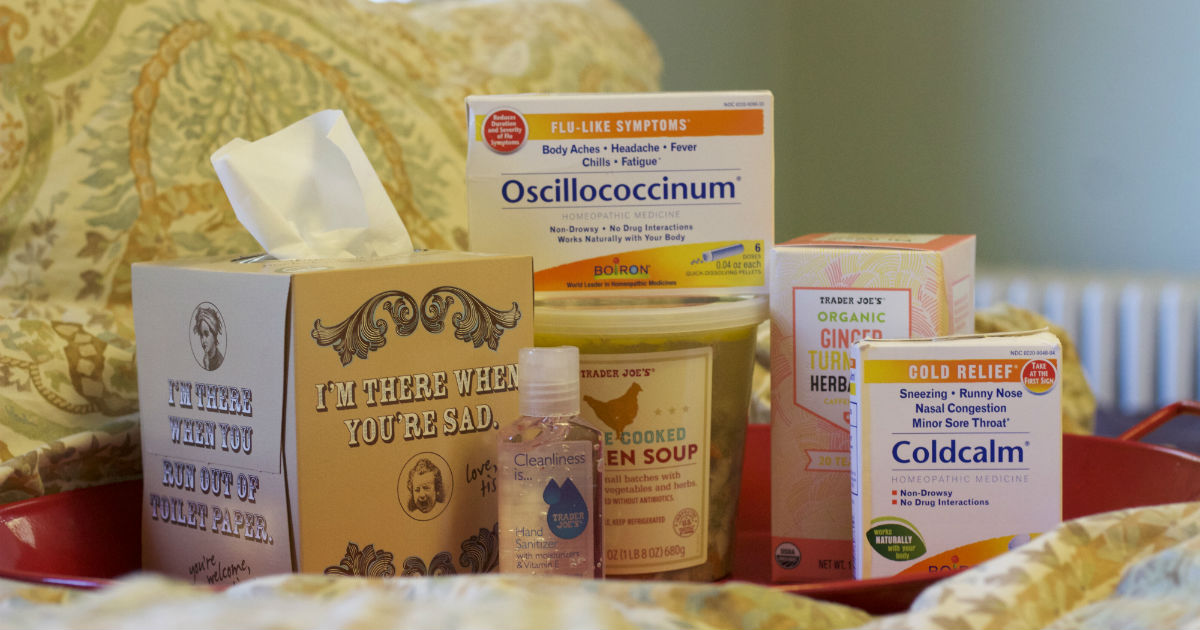 During cold & flu season, Trader Joe's is your new BFF with these must haves.
Boiron Oscillococcinum and Coldcalm
At the first sign of a cold or flu, fight those viruses naturally with these trusted homeopathic remedies. Safe for everyone, even kids, these tablets dissolve quickly and shorten the duration and severity of the cold and flu so you are back on your feet in no time.
Organic Ginger Tumeric Herbal Tea
In traditional Indian medicine, ginger, turmeric and garlic are often added to recipes to fight against infections during the cold and flu seasons or simply to warm the body. Turmeric is also considered a natural antibiotic in Ayurvedic medicine. This fragrant and invigorating tea contains organic ginger, turmeric as well as licorice root, orange peel, orange oil, and black pepper—all for an herbal tea that will leave you feeling better when you are feeling under the weather.
Kettle Cooked Chicken Soup
Leave it to Trader Joe's to sell homemade chicken soup made in small batches. This rich chicken stock is made from antibiotic-free chicken, fresh vegetables, herbs, and spices that have been slowly simmered to perfection, allowing the flavors to fully develop. Additional herbs are then steeped in the hot stock, and finally, chunks of chicken, carrots, celery, onions, and parsnips are stirred in to lend the soup the heartiness you crave on a blustery day.
Trader Joe's Tissues
When you are lying in bed sniffling and sneezing, you can get a kick out of this very sympathetic box of ultra soft tissues with sayings like "I'm there when you're sad" and "I'm there when you run out of toilet paper." Cute, no?
Cleanliness Is Hand Sanitizer
This one is pretty obvious. Fight those germs before you get them or after to prevent spreading. TJ's sanitizer contains moisturizers and Vitamin E so it's gentler on your hands while still killing 99.99% of germs. These handy 2 oz bottles are the perfect size to stow in your pocket or purse.