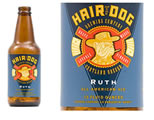 Imagine a brewing company that only makes a handful of beers so intense, so delicious and so sought after that they have to have secret release dates of their brews to avoid overcrowding and you will have imagined Hair of the Dog Brewery in Portland, Oregon.
Famous for their Adambier, HoD creates aggressive brews, often with upwards of 10% ABV. Recently, they have been releasing their Ruth American Ale, which is a more drinkable 4.5% ABV. Hair of the Dog wouldn't put out any old ale, though—this one smacks of flavor and aroma and is a classic addition to the HoD line up. The Ruth is a rich, golden beer chock full of citrus, grass, caramel and grain scents. The flavor develops into a deliciously hoppy, grassy ale that Pacific Northwest breweries are famous for.
While many beer drinkers may be putting the ales away for the winter, the Ruth offers the delicious, fresh flavor of an American ale, but delivers a more complex, robust backbone that tastes just right on a chilly evening.
---
Jake Kulju
is a freelance writer, and food & wine reviewer. Visit his web site,
www.jakekulju.com
.