Why not add something different to the table this Thanksgiving? Imagine fresh yellow tomatoes, slow roasted to perfection and grilled artichoke marinated in an oregano and balsamic vinegar marinade paired with a vitamin and mineral powerhouse of southern greens topped with tangy goat cheese. Your guests will be impressed with the presentation and flavor of this perfectly delicious and healthy veggie side dish.
Ingredients:
one 7 oz container of Trader Joe's Slow Roasted Yellow Tomatoes
one 7 oz container of Trader Joe's Grilled Marinated Artichoke
one 16 oz bag of Trader Joe's Southern Greens Blend - a mix of mustard, turnip and collard greens and spinach, coarsely chopped
one 5 oz log of Trader Joe's Chevre Goat Cheese
one 4 oz bag of Trader Joe's Cheese & Garlic Croutons
one small onion, diced
1 cup chicken broth or water
salt & pepper to taste
1. Drain tomatoes and artichoke and set aside.
2. Add 2 tablespoons of the roasted tomato marinade to large pot (large enough to fit the greens) and saute the diced onion until soft over medium-high heat.
3. Add chopped greens and cup of chicken broth or water to pot. Reduce to medium heat, stir and cover. Cook for 6-8 minutes, stirring occasionally until greens are wilted.
4. Chop up the tomatoes and artichoke and add to the greens. Season with salt and pepper and heat for 2 more minutes.
5. Slice goat cheese into 1/2 inch disks or crumble.
6. Arrange greens on serving plate and mix in croutons. Top with goat cheese and serve immediately.
Serves 6-8.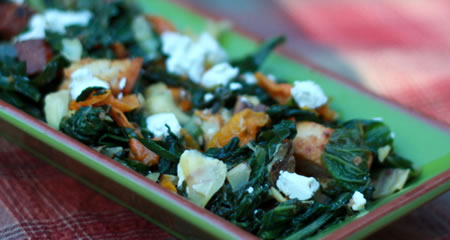 Leftovers? Remove soggy croutons. Top a pizza shell (or Trader Joe's Frozen Garlic Naan) with some tomato/pizza sauce and the leftover roasted veggies. Add a little more goat cheese if desired. Bake and enjoy!