Trader Joe's
is your one stop shop for Thanksgiving. Here to share their favorite Thanksgiving buys at TJ's are Deana Gunn and Wona Miniati, authors of "
Cooking with All Things Trader Joe's
" and "
The Trader Joe's Companion: A Portable Cookbook
." "It's easy to get overwhelmed when making a big meal, but a Thanksgiving feast really can be a stress-free and low fuss event," says Deana, "you just need to plan your shopping list and take advantage of all those great time-saving products at
Trader Joe's.
" Read on for some of their quick and easy recipes using shortcuts from
Trader Joe's
.
SUPPORT TraderJoesFan.com -- buy these books from Amazon.com using the link below and you will help us provide more reviews, recipes, news and features!

Cooking with All Things Trader Joe's
The Trader Joe's Companion: A Portable Cookbook



Turkeys! Turkeys were landing at Trader Joe's starting mid-November. Last year, we tried the brined turkeys and they were juicy and delicious, receiving raves from all our guests. We like to rub the turkey with olive oil, season with black pepper, and then stuff the turkey with 2 lemons cut in half, a a bulb of garlic with cloves cut in half and a few sprigs of fresh rosemary. Roast at 325˚ F until turkey reaches temperature (varies depending on size). Vegetarian? Look no further for Tofurky, also available at TJ's.

Turkey Gravy: Trader Joe's all-natural boxed turkey gravy is thick, rich and savory, and so convenient. Perfect for pouring over juicy turkey or using in a Shepherd's Pie. Good news for those who have wheat sensitivity – no wheat ingredients used in this gravy.

Cornbread Stuffing Mix: Hearty croutons bursting with savory flavor. Serve as prepared, or add your own selections of cranberries, nuts, mushrooms, or diced sausage. We like to sauté one chopped trimmed leek (about a cup's worth) and one container sliced crimini mushrooms in 1 Tbsp olive oil and add it to the prepared stuffing.

Spiced Apple Cider: For the best smelling kitchen in the neighborhood, simmer cider in a pot with cinnamon sticks or your favorite mulling spices. Serve warm.
Mashed Potatoes:
In the mashed potato department, you're minutes away from fluffy white peaks of buttery potatoes. Try frozen Mashed Potatoes or boxed
instant Garlic Mashed Potatoes
.

Fried Onion Pieces: Perk up that boring green bean casserole or vegetable gratin with these crispy toppings. If you make a green salad or a soup, top with some fried onion pieces.

Pumpkin Pancake & Waffle Mix: Don't forget breakfast! This delicious mix, perfect for Thanksgiving day, has been getting cheers across the country. Serve with maple syrup and pumpkin butter.

Pumpkin Butter: Use this sweet pumpkin blend to fill little tarts, stir into soups, serve on scones, add to ice cream or yogurt, fold into puff pastry turnovers, or spread on pumpkin pancakes. For an easy side dish, use in Harvest Glazed Carrots (recipe below)

Adorable Vegetables: Who can resist Teeny Tiny Potatoes, Tri Color Pearl Onions, or Organic Baby Sweet Potatoes. Almost too cute to eat.

Pie Crust: These convenient frozen gourmet crusts bake up flakey and delicious. Each package contains 2 crusts and this year they are boxed so that there is no unfolding involved. Fill with your own pumpkin filling using Organic Canned Pumpkin (recipe below). For a zero-fuss ready-made dessert, try Trader Joe's Pumpkin Tart, Honey Pecan Tart, or Baked Apple Pie.

Fill out your recipes with Free Range Chicken Broth, TJ's Whole Kernel Corn in the famous yellow can, Cornbread Mix, Pumpkin Bread and Muffin Mix, Organic Sweetened Condensed Milk, ready-to-use Wild Rice, fresh whole cranberries (Cranberry Sauce recipe below!)

Find out more about Deana and Wona, their recipes, books, and blog at www.cookingwithtraderjoes.com.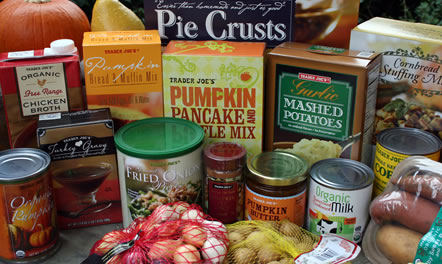 Harvest Glazed Carrots

This tasty carrot dish is full of wonderful autumn and Thanksgiving flavors of pumpkin and spices mingling with sweet tender carrots. Raisins and pecans add texture and color. Make this an easy addition to your holiday meals.
Pumpkin Butter
goes great with other harvest vegetables such as butternut squash or sweet potato.
3 cups coined carrots (cut into disks) or 1 bag baby carrots
2 Tbsp Pumpkin Butter
¼ cup raisins
¼ cup whole pecans
1) Steam carrots until crisp-tender.
2) Stir in pumpkin butter, raisins and pecans.
Prep and cooking time: 10-15 minutes
Serves 4
Traditional Cranberry Sauce

For many of us, there is only one kind of cranberry sauce: the canned jelly variety. Growing up, we would slide it out of the can and then carefully cut it into slices using the molded stripes from the can as a guide. Nowadays, we take advantage of fresh cranberries and make our own. Both of these recipes are easy and take only a few minutes more than opening a can! The first is a traditional cranberry sauce and the second is a raw cranberry relish – serve them both!
The cooked cranberry sauce is made with whole cranberries, flavored with sugar and lemon zest. You can chop some or all of the cranberries for a smoother sauce. You can also leave them all whole - they will pop after 10 minutes of cooking. We like the contrast of the tart and sweet, but if you like your cranberry sauce extra sweet, add more sugar.
1 12-oz pkg whole cranberries
1 cup water
1/2 cup sugar
zest of 1/2 lemon
1. Optional: chop some or all the cranberries in a food processor or blender (be careful to pulse and only chop it roughly. Don't blend it into a mushy pulp). I chopped about half of the cranberries and left the rest whole.
2. Add all the ingredients to a medium saucepan. Bring to a boil and then lower the heat, simmering for about 10-15 minutes. The sauce will thicken as it cools.
Old Fashioned Pumpkin Pie
Trader Joe's
ready-made pumpkin pies are great, but it's pretty easy to make your own homemade pie, and nothing can beat the homey aroma of a baking pumpkin pie. Using a frozen pie crust and canned pumpkin puree takes out nearly all of the prep work, and Pumpkin Pie Spice adds just the right blend of warmth.
1 frozen Pie Crust, thawed
2 large eggs
2 cups canned pumpkin ( or cooked pumpkin puree)
1 1/2 cups (about 1 can) Organic Sweetened Condensed Milk
1/3 cup brown sugar
3 tsp Pumpkin Pie Spice
1/2 tsp salt
1.) Preheat oven to 375˚ F.
2.) Place the crust into an oven safe dish. Crimp the edges, leaving the sides high.
3.) Whisk the remaining ingredients together and pour into pie crust.
4.) Bake 35 to 45 minutes until firm.