Quinoa, pronounced
keen-wah
, is a hearty grain yet light enough for Indian Summer meals. Pick up a box of
Trader Joe's Organic Quinoa
and try some of these wonderful recipes for an interesting alternative to rice and couscous.
A Staple of the Ancient Incas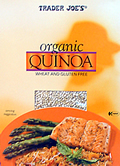 Quinoa comes from the Andes Mountains of South America and was one of the three staple foods of the Incas (along with corn and potatoes.) It was known as the "mother grain" and is indeed a healthy and delicious grain, now called by some as the "supergrain of the future." Quinoa contains more protein than any other grain, between 12% and 20%, which is higher than even wheat. Unlike wheat or rice (which are low in lysine), quinoa contains a balanced set of essential amino acids for humans. It is also good source of dietary fiber and phosphorus and is high in magnesium and iron.
Quinoa is quite easy to prepare and cooks to a light and fluffy texture with a bit of crunch. It can be used in salads, sides as well as desserts, and cooks in just 15 minutes.
Grilled Asparagus and Quinoa Salad with Goat Cheese and Black Olive Vinaigrette


This recipe comes from celebrity chef Bobby Flay:

12 spears asparagus, trimmed
Olive oil
Salt and pepper
2 cups quinoa
8 ounces aged goat cheese, shaved
1/4 cup chopped parsley leaves
1 tablespoon red wine vinegar
2 tablespoons olive oil
5 nicoise olives
1 Roma tomato, sliced
Parsley sprigs for garnish


Heat grill. Brush asparagus with olive oil and season with salt and pepper, to taste. Grill on both sides until just cooked through, about 2 minutes on each side. Remove from grill and cut in half.

Bring 8 cups of salted water to a boil. Add quinoa and cook until soft. Drain and rinse with cold water and drain again. Place the quinoa in a medium bowl and add red wine vinegar, olive oil, parsley and 1/4 cup of olive vinaigrette. Stir to combine. Place on plate and top with goat cheese, asparagus, whole nicoise olives, sliced tomato and parsley sprigs.

Black Olive Vinaigrette:
1/4 cup aged sherry vinegar
1 tablespoon Dijon mustard
1/2 teaspoon chile de arbol
1/2 cup pitted nicoise olives
1/2 cup olive oil

Combine vinegar, mustard, chile powder, olives and olive oil in a blender and blend until smooth.

NOTE: dried serrano, red chili peppers and even paprika can be substituted for the chile de arbol.

Garlic Chicken Stir-Fry with Quinoa, Peppers and Basil
This recipe comes from the box of
Trader Joe's Organic Quinoa
.
1 cup Trader Joe's Organic Quinoa prepared with chicken stock according to package directions
2 cups Trader Joe's Chicken Broth
1 1/2 pounds Trader Joe's Boneless, Skinless Chicken Breast Tenders
4 tablespoons Trader Joe's Garlic Flavored Olive Oil
1 small onion, thinly sliced
1 red bell pepper, seeded and thinly sliced
1 yellow bell pepper, seeded and thinly sliced
5 cloves of garlic, thinly sliced
20 leaves fresh sweet basil, julienne
Grated parmesan cheese
Salt and pepper to taste
Cut chicken into one inch pieces. Heat large nonstick skillet over high heat and add the oil. Add chicken and saute for 5 minutes or until golden brown. Add onions, peppers, and saute for one or two more minutes. Add garlic and saute until peppers become slightly limp, but still bright, about one to two minutes. Season with salt and pepper. Remove the pan from heat. Add basil and quinoa. Toss until basil wilts and garnish with parmesan cheese. Serves four.
Quinoa Stuffed Pears
This recipe comes from
D Hostess's
demo counter:
2 Jars Trader Joe's Peaches or Pears in grape juice
1 cup uncooked Quinoa
3 tablespoon Brown Sugar
Drain juice from the jar of fruit into a sauce pan, add the quinoa. Bring to a boil and cook until soft and very little liquid remains. This should take about 10 minutes. Place the peach or pear halves in a sprayed 7"x11" pan. Top with brown sugar. Bake at 350 degrees for 10 minutes.
Enjoy hot or cold, as a dessert or for breakfast!