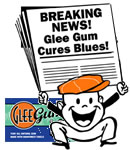 With the economy down, you may be feeling glum. But there's a natural, inexpensive way to lift your spirits, and it's waiting for you at
Trader Joe's
:
Glee Gum
! Scientific studies have shown that chewing gum can reduce stress and relieve anxiety. Though times are tough and wallets lean,
Glee Gum
proves it's still fun, easy, and affordable to go green.
Glee Gum
is all-natural chewing gum with no artificial flavors, colors, sweeteners, or preservatives. While most gums are made entirely of synthetic (read: questionable and icky) materials,
Glee Gum
is filled with safe and familiar ingredients like rice syrup and pure cane sugar. Gluten-free, Feingold diet-approved, and certified vegetarian,
Glee Gum
is a natural choice for chewing.

Glee Gum is also a green gum which actively helps to conserve the rainforest. Its long-lasting chewing texture is derived from chicle, a tree sap harvested sustainably from the rainforests of Central America. The harvest of chicle, a renewable resource, helps to prevent deforestation in fragile eco-systems and to support workers in economically depressed regions. What's more, each pack of Glee Gum is made from 100% biodegradable, recycled cardboard. Priced under a dollar per pack, Glee Gum provides a recession-proof way to help save the planet!

You can grab a pack of refreshing, delicious Glee Peppermint Gum right at your friendly neighborhood Trader Joe's. Other tasty flavors like Tangerine, Cinnamon, Bubblegum, Spearmint, and Triple Berry can be found at retail locations across the country. In fact, you can find Glee from sea to shining sea-- at places like Whole Foods, Cost Plus, specialty grocers, and even coffee shops.
Whenever the economy's got you sick with worry, try popping a piece of Glee— you'll feel better in a hurry! Glee Gum is the natural, affordable way to lighten your mood and brighten your day.


Just tell the Glee Guy in 50 words or less why you love Glee Gum. Ten lucky runner-ups will each win a carton of Glee Gum (any flavor, 12 packs per carton). One big winner will take home the grand prize: a $100 gift certificate to Trader Joe's!

Click here to enter >>

To locate the store nearest you or to order Glee Gum directly, visit www.gleegum.com.