From chocoholics to the eco-friendly, we selected 10 special items you can pick up last-minute at
Trader Joe's
for practically anyone
.
Best of all, they are all under $5, but hurry and stock up! Some of these items are seasonal.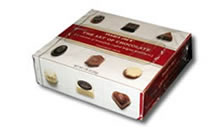 1. The Art of Chocolate
GREAT FOR
:
friends, coworkers, chocoholics
These exquisite, miniature Belgian chocolates come in a pretty box just the right size for a Christmas stocking. There are nine truffle creams, pralines and hazelnut pieces with fancy shapes and imprints - two white, two dark and five milk chocolate. At $1.99 a box, this is a spectacular deal and they make a great gift for just about anyone.
2. Lavender Triple Milled Soap
GREAT FOR
:
moms, sisters, gift baskets
Made in France, this soap is a luxurious treat for any lady on your list. It is triple milled, 100% pure vegetable and enriched with moisturizing shea butter. What really makes this soap fancy is the actual lavender flowers. Best of all is the smell. It delights the senses.
3. Chocolate Traveler Bittersweet Chocolate Wedges
GREAT FOR
:
yourself!
,
party favors, globetrotters

Brilliant -- chocolate TO GO! Single servings of chocolate that won't smush or melt in your purse. Need an excuse to get it for yourself? Dark chocolate tops the list of the most antioxidant foods according to the American Dietetic Association, and diets rich in flavonoids can lead to lower levels of bad LDL cholesterol and higher levels of good HDL cholesterol.
4. Preserve Toothbrush by Recycline
GREAT FOR
:
parents, kids, the eco-conscious
In case you missed our
in depth article on this toothbrush
, we were onto this years ago. Toothbrushes contribute 50 million pounds to our waste every year and that's considering the average American changes toothbrushes 1.5 times a year versus the ADA recommended four times a year. This toothbrush is recycled (relax -- practically as clean as virgin plastic) as well as recyclable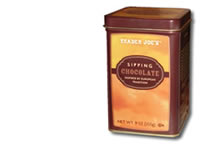 5. Sipping Chocolate
GREAT FOR
:
hostess gifts, neighbors, gourmands
In the European tradition, this makes a rich, smooth chocolatey beverage much too distinguished to be called cocoa. Add whole milk (or a mixture of milk and half & half) as a splurge to be savored. Having a dinner party? Get creative with some liquors for an after dinner drink they will not forget anytime soon.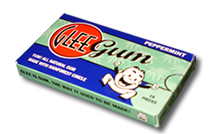 6. Glee Gum
GREAT FOR
:
teenagers, the retro-chic, sitters
Some people buy it because of the hip retro packaging, true, but what makes Glee gum so special is the great taste of this all natural gum made with rainforest chicle. Too bad
Trader Joe's
doesn't carry the other flavors like tangerine...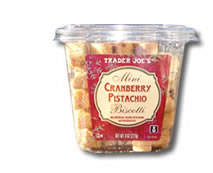 7. Mini Cranberry Pistachio Biscotti
GREAT FOR
:
office parties, aunts, the doorrman

This biscotti is just the right consistency - hard enough to dip in coffee (or sipping chocolate) yet soft enough to keep teeth intact. The only problem with that is that it makes them more like cookies and therefore in danger of being eaten in one sitting. The crunchiness of the pistachios and the chewy tartness of the cranberries just works and these are chock full of both.
8. Green Tea Mints
GREAT FOR
:
parents, siblings, antioxidant nuts

So maybe these won't freshen your breath like actual breath mints but they do have a lovely green tea flavor and an adorable tea leaf shape. Better yet, they are a great way to get those green tea antioxidants and fit neatly in your pocket.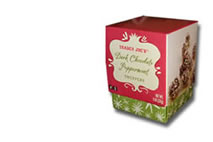 9. Dark Chocolate Peppermint Truffles
GREAT FOR
:
bosses, teachers, cocktail parties

These dark chocolate truffles are rolled in peppermint bits and packaged in a very fancy Martha Stewart-esque box. Just add a bow and you're ready to go or put them in a small silver bowl for an old-time Christmas touch around the house.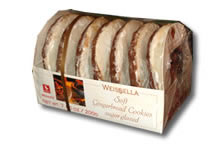 10. Wiessella Soft Gingerbread Cookies
GREAT FOR
:
grandparents
,
snacks
,
leaving out for Santa

These sugar-glazed cookies are imported from Germany. Similar to Polish
piernicki
, they are softer and milder than American gingerbread. These have a fabulous citrus twist that make the cookie. They also come chocolate-covered, but we like the regular best.