AVAILABLE AT TRADER JOE'S!
The delicious crunch of Almondina® Biscuits is like no other gourmet treat. Th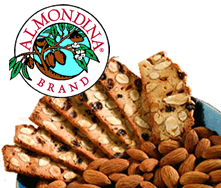 is extraordinary thin, crispy cookie, packed with roasted almonds and a variety of fruits and spices, is based on Grandma Dina's unique family recipe for Le Petit Gateu Sec. Almondina is a Four-Time NASFT Award Winner in the Best Cookie and Outstanding Classic Categories
Almondina cookies contain:
No Added Fat or Salt*
No Preservative
No Cholesterol
All Natural Ingredients
WIN A BASKET OF 8 FLAVORS!
ENTER TO WIN A GIFT BASKET AT TRADERJOESFAN.COM!
This month, our recipe contest is sponsored by Almondina. The winner receives a gift box created especially for the person who loves variety.
Almondina's® Assorted 8-Cookie Gift Box includes two bags of The Original and one bag each of six other delicious flavors, all packed in a beautiful gift box with a ribbon.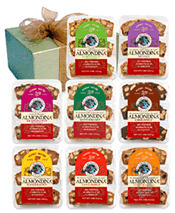 You will enjoy trying them all!


Be sure to stop by your local Trader Joe's Grocery Store to pick up any one of these crunchy cookies!

View all of Almondina's products at: www.almondina.com